2019-04-26
We had to wait a long long time but now a new Shock Therapy single is born and will be released at the beginning of may.
The song "Can You Feel My Purity" is one out of an unreleased archive of songs they was produced by Itchy himself. And now we get the chance to listen it.
Can You Feel My Purity Release Trailer
2018-05-18
New Shock Therapy Video "Let me Go" and Promotion-Set for the Tribute Tour
Let's start without an prologue
The video for the new "Let Me Go" has been released now
https://www.youtube.com/watch?v=IuRrvfCCgsY
You'll find more stuff to stream or buy in the following list
Hör-Stream-Kauf-Link
Well well, the artshots from the current flyer and tourposter don't need more words.
Have fun with the whole new stuff!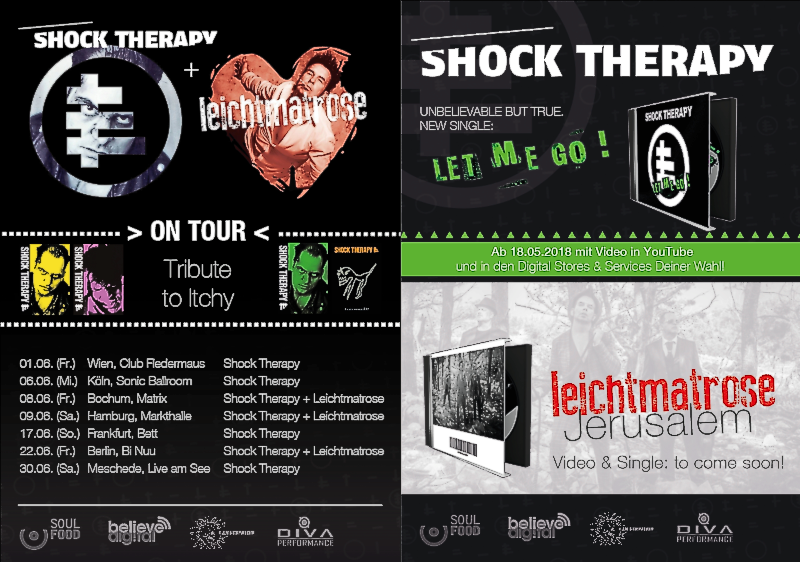 2018-05-12
It's really true. On the left side playes Cliff, follows from Tommy, Peter, Per, Scotty and Onyx.

2018-05-09
New year, new chance. Since 4 may the new dates for the first live-shows are released. In any case these shows will be happen. The first thing is all shows are booked by the promotors, the second thing is the guys are in stuttgart and work on the live-set. Slowly it will be serious :-)

01.06. (Fr.) Wien, Club Fledermaus
08.06. (Fr.) Bochum, Matrix (mit Leichtmatrose)
09.06. (Sa.) Hamburg, Markthalle (mit Leichtmatrose)
17.06. (So.) Frankfurt, Bett
22.06. (Fr.) Berlin, Bi Nuu (mit Leichtmatrose)
30.06. (Sa.) Meschede, Live am See
2018-05-05
Shock Therapys "Let Me Go" 2018 new production and musicvideo
Today there came the news that more versions has been finished for the upcoming reinterpretation from "Let Me Go". Latest then if you hear the Alternative-remix you must dance or you're deaf. I'm so glad for that. Additional there are few screens out of the upcoming video. That's for you :-)

At the end follows the hint, that the new Shock Therapy band definitely are in the studio next week. They work on the live set and will play (maybe record too?) some more new interpretations. I think this will be a perfect start in the sommer.
2018-03-28
New "Let me go"

Few days ago i had the pleasure to listen the 2018-version "Let me go". This version plays the new "Shock Therapy". I think an very exciting new interpretation based on known roots.

If it is, what we get, then a lot of great concerts wait for us.

Additional "I am Surprised Records" release some mixes and an video from the new "Let me go".
Currently it's unknown, which way the stuff will published (download or cd or some else).
2018-03-17
"Tribute"-Band complete

The canceled Tribute-Tour in 2017 is reanimated and growth quick.
Currently the band-members are as follows

Drums & Percussion: Cliff Hill
Percussion: Mark Chuddy
Keyboards/Bass/Synth/Effects/Programming: Per Anders Kurenbach
Guitar: Onyx Lustro
Voice: Scott Mick
Voice: Tommy Piehler

At this moment, the management will be book the locations. The Tribute-Tournee will be played in June 2018 and will find her end at a festival by Meschede.
2017-08-11
Dear Shock Therapy Fans,

due to private issues we had to cancel our little tour in September this year short-term. But don't be mad nor be sad, we will organize another tour in Europe at the beginning of next year.

The set is ready, we are willing to play !!!
2017-06-04
First Shows planned

After the last changes in the line-up of the "new" Shock Therapy (take a look to update from 2017-02-10), the first show dates was released. The tour is called "Tribute to Itchy" and will have 10 shows in Europe.

14.9. Köln, Sonic Ballroom
15.9. Stuttgart JH Hallschlag
16.9. Ingolstadt, Evenhalle Westpark (Exklusiv Show für Bayern)
17.9. Berlin, Bi Nuu
18.9. Hamburg, Hafenklang
22.9. Bochum, Rockpalast - Matrix
2017-02-10
Shock Therapy are finally back!!!

17 Jahre nach dem letzten Konzert und 8 Jahre nach dem Tod von Gregory "Itchy" McCormick gibt es Neuigkeiten!

Shock Therapy haben sich wieder neu formiert!

[Update]
ST – Gründungsmitglied und Kult-Urgestein Keith Jackson (Gitarre), sowie Cliff Hill (seit dem 2. Album Drummer bei ST), Per-Anders Kurenbach (Live Keyboards) und die beiden Stimmen Scott Mick (Lead-Vocals) & Tommy P. (Lead-Vocals) möchten es genauer wissen:

Aus diesem Grund ist in diesem Jahr neben einer BEST OF-Doppel CD und einem Remix-Album auch eine Tour durch Europa geplant. Genauere Termine werden in ein paar Wochen bekannt gegeben. Bis dahin sagen wir:
Stay excited! Stay Tuned!
I Am Surprised Records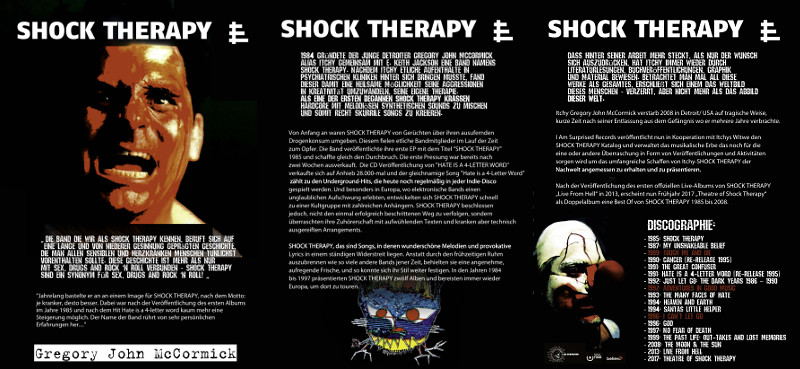 GER Shock-Therapy-Infoblatt
ENG Shock-Therapy-Infopaper